The insurance company asked me to sign a records release form. Should I sign it?
Proceed with Caution
One common scenario that personal injury claimants often encounter is the insurance company's request to sign a medical records release form. While it may appear to be a straightforward process, there are important considerations that demand your attention before making any decisions. In this comprehensive guide, we delve into the nuances of these forms and why it's advisable to exercise caution and seek legal counsel.
The Insurance Company's Request: A Deceptively Simple Offer
When you file a personal injury claim and are not represented by a personal injury lawyer, it's not uncommon for the insurance claims adjuster to request that you sign a medical records release form. On the surface, this might seem like a convenient solution, as the adjuster asserts that signing the form will enable them to efficiently gather your medical records, sparing you from the hassle.
The Pitfalls of Signing Without Careful Consideration
However, the language used in medical authorizations can be surprisingly broad, creating potential pitfalls that could adversely impact your claim:
Unintended Disclosure: By signing such a broad release, you risk inadvertently allowing the insurance company access to your entire medical history. This means that they could potentially obtain records unrelated to your current injury, providing them with information that may not be relevant to your case.

Privacy Concerns: Your medical history is a deeply personal and confidential matter. Signing a release form without a careful review could lead to privacy concerns, as sensitive medical information could end up in the hands of the insurance company.

Control Over Information: It's important to maintain control over the information that is shared during the claims process. Signing a blanket medical records release form may relinquish this control and leave you at a disadvantage.
A Safer Approach: Seeking Legal Counsel
Given the potential risks associated with signing a broad medical records release form, it is strongly recommended that you take a cautious approach:
Independent Document Gathering: One option is to gather your medical records independently, in advance of any negotiations. This allows you to select and provide only the relevant records to the insurance company, protecting your privacy and the integrity of your claim.

Legal Representation: Alternatively, if you have legal representation, your personal injury lawyer can handle the collection and presentation of your medical records to the adjuster. This ensures that your rights are protected, and your medical history is disclosed only to the extent necessary for your claim.
Protecting Your Interests
In the realm of personal injury claims, protecting your interests is paramount. The seemingly simple act of signing a medical records release form can have far-reaching consequences. To safeguard your privacy and ensure that your claim is handled with the utmost care and precision, it is strongly advised to consult with a personal injury lawyer before making any decisions regarding these forms. Your attorney will guide you through the process, ensuring that your rights and interests remain a top priority throughout your claim.
✓ You Pay Nothing Until We Win       ✓ Free Case Evaluation        ✓ 25 Percent Contingency Fees
CLG Injury Law understands that your accident has had negative impacts on your life. Contact us today to get us fighting for you in your corner. Let's get you back on the road of life.
We are here to help clients and people. If you are experiencing difficulties in your life due to an accident, please reach out and let us help fix this disruption to your lifestyle. We are here for you!
An informed client is a happy client. Check out the latest CLG Injury Law News, Health & Safety Tips, Recalls, Law Briefs, and much more: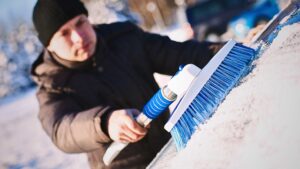 In this blog post, we delve into the importance of diligently removing snow and ice from your vehicle before hitting...
Read More
Browse other sections to find out more information about your situation: