How long will my personal injury case take?

If you or a loved one was injured in an accident, you may be wondering what happens next: What should you do (or not do)? Are you entitled to compensation and, if so, when and how does that happen? The timeline below provides a brief overview of what to expect and what steps to take in the hours, days, weeks and months after an injury accident:
Seek Medical Treatment
Don't delay treatment. The longer you wait to seek medical care, the more likely the insurance adjuster or potential adversaries will be to assume your claimed injury is fabricated or was caused by something other than the accident. When you do seek treatment, be sure to report to your attending physician that you were in an accident.
Report Accident to Your Insurance Company
Most policies require that you report the accident immediately; otherwise, you waive your right to benefits under your policy, including the right to look to your own insurance company for compensation if the at-fault party is uninsured or underinsured.
Consult With Personal Injury Lawyer
An experienced personal injury lawyer can review your situation and help you decide whether you have a case against the other parties involved in the accident. There is no "best" time for this consultation, but don't wait too long after your accident, as potential evidence may be lost or destroyed. Moreover, you only have a limited time within which to file a lawsuit typically one-to-two years from the date of the accident, though certain notice may be required earlier. If that time-period expires, your claim will be barred.


Gathering Facts and Evidence
Your law firm will diligently gather all the facts and evidence necessary to:
Investigate liability for the accident;
Assess the nature and extent of the injuries;
Determine past and future loss of income
Determine loss of valuable services (home-care);
Assess the cost of future care.
Focus on Your Medical Recovery
Our goal is to help you receive full treatment, proper attention and the best rehabilitation needed for your recovery. Our legal team has the experience and resources to refer you to medical professionals and specialists who will provide expert opinions to establish the nature of your injuries and also provide recommendations required to help you achieve maximum medical rehabilitation and recovery.
Our dedicated Lawyers will help you understand medical insurance matters as well as pursuing treatment payments from the no fault Section B provider. We will also document and record information on your medical treatment. Our firm will handle the legal details so you can focus on your medical well-being.
Fill Out and Send Accident Benefits Forms
Complete and submit all required accident benefits forms to your insurance company. Make sure to keep copies for your records. The specific Accident Benefits Forms may vary slightly depending on the province or territory where the accident occurred, but they generally include the following main forms:
Automobile Accident Benefits Proof of Claim:

This form serves as your formal application for accident benefits. It includes details about the accident, the injuries sustained, and the benefits you are seeking.
Employer's Confirmation of Income: This form is used to verify your pre-accident income if you are claiming income replacement benefits due to being unable to work because of your injuries.

Attending Physician's Form:

This form is completed by your treating physician and provides information about your medical condition, treatment plan, and prognosis.

Track Expenses and Keep Receipts
Keep all receipts, incident reports or police reports, and other documents related to your accident and injuries. For example, keep your receipts for out-of-pocket medical expenses, medical equipment, home maintenance for services you can no longer perform due to your injuries; repair or replacement of damaged property, etc. Keeping your empty prescription bottles is an easy way to keep a record of your medication use and expenses.
File Lawsuit
If you can not reach a settlement, you need to file a personal injury lawsuit prior to the deadline. In most cases you have 2 years to file a lawsuit if you are suffering injuries due to someone else's negligence. However, this time limit may vary depending on specifics of your case.
Reaching Your Maximum Medical Improvement Point (MMIP)
It is highly recommended you wait until your injuries have totally resolved or you have a firm long term prognosis, so we can accurately estimate your future medical expenses or loss of income. Most soft issue injuries resolve within 4 months from the date of the accident. However, if you have ongoing pain and/or ongoing physical restrictions and limitations, your physician will likely wait two years prior to providing a firm long term prognosis.
Negotiation Settlement
Once you have reached your medical plateau (maximum medical improvement point), your lawyer can begin evaluating the value of your claim. Your settlement will include compensation for pain and suffering, loss of past and future income, medical expenses, loss of valuable services, out of pocket expenses, and cost of future care.
Caution: insurance adjusters are skilled and crafty negotiators; having an experienced personal injury lawyer on your side will help to level the playing field and protect your interests.
Discovery Phase
Through the discovery process, documents, records, witness statements, expert reports, and other pertinent information are disclosed, promoting transparency and ensuring a fair trial.


Lawyers for respective parties meet and plan timeline for discovery phase of case. Depositions, medical examinations, discovery deadlines, and possible court motions. Notice of Examination is issued and entered by clerk.
Judges typically do not participate in Discovery Phase unless necessary to resolve dispute between parties.
A. Interrogatories, Requests for Admission, and Requests for Production: Requests for Production – lawyers serve written requests on parties or non-parties asking them to produce certain documentary evidence in their possession; recipient responds in writing within specified deadline
B. Defendant's Medical Examination: Defendant may require Plaintiff to be examined by an "independent" physician designated by Defendant.
C. Oral Depositions: The respective parties to the action (Plaintiff and all Defendants) are deposed by the lawyers in presence of court reporter.
D. Designation of Expert Witnesses: Parties may hire expert witnesses in anticipation of trial. Once expert is retained, he/she conducts investigation and formulates professional opinion.
Settlement Conference/Mediation
If the parties have still not resolved case, court may order a Judicial conference. At the Judicial conference, a judge will attempt to facilitate a settlement agreement. Parties can agree to a Mediation where a neutral third-party mediator reviews case and attempts to facilitate agreement between the parties. If no settlement reached, case marked for trial and placed on trial calendar. If settlement reached, case ends. Settlement funds disbursed within 30 days.
Trial
Every situation is different. Many cases settle out of court without a lawsuit even being filed. Other cases settle during the litigation process on the eve of Trial. A significant majority (over 95%) of injury cases are settled prior to Trial. The speed with which cases move through the court system is different in every jurisdiction in our provinces. Some jurisdictions are known for relatively fast-moving dockets, while others are bogged down with overloaded judges and case calendars.

Our law firm will only recommend the settlement if it is in your best interest. However, we approach every case as if it will go to Trial to insure thorough preparation. In the event the insurance company does not offer a fair and reasonable settlement, we are fully prepared to go to Trial. Our lawyers are experienced and knowledgeable
Disbursement of Funds
Damages awarded are released to Plaintiff.
Download the PDF
Click the link to download the PDF version of this timeline to your phone or device so you can access it anytime.
✓ You Pay Nothing Until We Win       ✓ Free Case Evaluation        ✓ 25 Percent Contingency Fees
CLG Injury Law understands that your accident has had negative impacts on your life. Contact us today to get us fighting for you in your corner. Let's get you back on the road of life.
We are here to help clients and people. If you are experiencing difficulties in your life due to an accident, please reach out and let us help fix this disruption to your lifestyle. We are here for you!
An informed client is a happy client. Check out the latest CLG Injury Law News, Health & Safety Tips, Recalls, Law Briefs, and much more: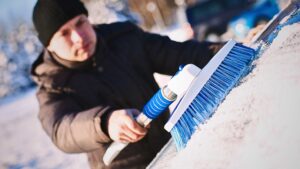 In this blog post, we delve into the importance of diligently removing snow and ice from your vehicle before hitting...
Read More
Browse other sections to find out more information about your situation: