Why is it important to talk to a lawyer after an accident?
After an accident you will be looking for compensation for the damages the accident may have caused. Insurance companies will attempt to give you less than you deserve. Talking to a lawyer will help put a number on the damages acquired, so you know never to settle for less. Hiring a professional who can help you through the process, and knows the value of certain damages, will help assure that you get the accurate amount of compensation you deserve.
✓ You Pay Nothing Until We Win       ✓ Free Case Evaluation        ✓ 25 Percent Contingency Fees
CLG Injury Law understands that your accident has had negative impacts on your life. Contact us today to get us fighting for you in your corner. Let's get you back on the road of life.
We are here to help clients and people. If you are experiencing difficulties in your life due to an accident, please reach out and let us help fix this disruption to your lifestyle. We are here for you!
An informed client is a happy client. Check out the latest CLG Injury Law News, Health & Safety Tips, Recalls, Law Briefs, and much more: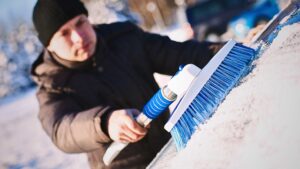 In this blog post, we delve into the importance of diligently removing snow and ice from your vehicle before hitting...
Read More
Browse other sections to find out more information about your situation: