How much is a personal injury case worth?
Understanding the Value of Your Personal Injury Case
When you've been injured due to someone else's negligence or wrongdoing, it's natural to wonder, "How much is my personal injury case worth?" The truth is, there's no magic formula or code that can precisely determine the value of your case. The worth of your case is determined by a court on a specific day, and any lawyer who claims otherwise is not being forthright.
Factors That Influence Case Value:
1. Liability and Negligence: The strength of your case hinges on establishing liability and proving negligence on the part of the responsible party. If negligence is clear, your case may have a stronger foundation.
2. Damages Incurred: The extent and nature of your injuries play a significant role in determining your case's value. Medical bills, lost wages, and future medical expenses are all factors considered.
3. Pain and Suffering: Non-economic damages, such as pain and suffering, emotional distress, and loss of enjoyment of life, can significantly impact your case's value. These are often subjective and challenging to quantify.
4. Insurance Coverage: The insurance policies of the at-fault party and your own insurance coverage can influence the amount you may recover.
The Role of an Experienced Lawyer
While there's no definitive formula for calculating the worth of your case, an experienced personal injury lawyer can provide valuable insights. They can evaluate the facts, damages, and circumstances surrounding your case based on their personal experience. Here's how they can assist:
1. Case Assessment: A skilled lawyer will assess the strengths and weaknesses of your case, helping you understand its potential value.
2. Negotiation Skills: Your lawyer can negotiate with insurance companies or opposing parties to secure a fair settlement. Their experience allows them to gauge what compensation you may be entitled to.
3. Trial Strategy: In the event your case goes to court, your lawyer will develop a compelling strategy to present your case effectively.
While the exact value of your personal injury case can't be predicted with certainty, it's essential to consult with a reputable lawyer who can guide you through the process. They can provide a realistic estimate based on their experience and work tirelessly to ensure you receive the compensation you deserve. Remember, your case's worth is determined by the specific circumstances and legal standards applicable on the day it's decided.
✓ You Pay Nothing Until We Win       ✓ Free Case Evaluation        ✓ 25 Percent Contingency Fees
CLG Injury Law understands that your accident has had negative impacts on your life. Contact us today to get us fighting for you in your corner. Let's get you back on the road of life.
We are here to help clients and people. If you are experiencing difficulties in your life due to an accident, please reach out and let us help fix this disruption to your lifestyle. We are here for you!
An informed client is a happy client. Check out the latest CLG Injury Law News, Health & Safety Tips, Recalls, Law Briefs, and much more: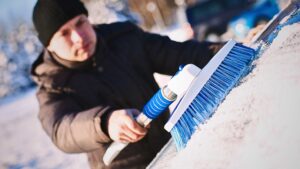 In this blog post, we delve into the importance of diligently removing snow and ice from your vehicle before hitting...
Read More
Browse other sections to find out more information about your situation: