What to do after an accident?
Dealing with an accident and its aftermath can be overwhelming. It's crucial to take the right steps to protect yourself and your rights. Here are some essential tips to guide you through the process:
1. Inform Your Family Doctor of Your Injuries
Seek medical attention promptly and inform your family doctor about your injuries. Documenting your injuries and receiving appropriate treatment is vital for your health and potential legal claims.
2. Call a Lawyer for a Free Meeting
Reach out to a knowledgeable lawyer for a free consultation. Understanding your rights, obligations, and options is crucial to making informed decisions. A lawyer can guide you through the legal process and help protect your interests.
3. Report the Accident to Your Insurance Company
Notify your insurance company about the accident promptly. Request the necessary accident benefits forms to initiate the claims process.
4. Fill Out and Send Accident Benefits Forms
Complete and submit all required accident benefits forms to your insurance company. Make sure to keep copies for your records. The specific Accident Benefits Forms may vary slightly depending on the province or territory where the accident occurred, but they generally include the following main forms:
Automobile Accident Benefits Proof of Claim

: This form serves as your formal application for accident benefits. It includes details about the accident, the injuries sustained, and the benefits you are seeking.
Employer's Confirmation of Income: This form is used to verify your pre-accident income if you are claiming income replacement benefits due to being unable to work because of your injuries.
Attending Physician's Form: This form is completed by your treating physician and provides information about your medical condition, treatment plan, and prognosis.
These forms help your insurance company assess the extent of your injuries and the benefits you are eligible to receive, which may include:
Income Replacement Benefits: For those unable to work due to accident-related injuries.
Medical and Rehabilitation Benefits: To cover necessary medical treatment and therapy.
Attendant Care Benefits: For personal care assistance if you are unable to care for yourself.
Non-Earner Benefits: For individuals who do not qualify for income replacement but still suffer from severe impairments.
Caregiver Benefits: For caregivers who need to care for dependents injured in the accident.
Death and Funeral Benefits: In the unfortunate event of a fatality, benefits are available to the deceased person's family.
5. Do Not Speak or Meet with Insurance Adjusters
Avoid speaking with insurance adjusters or claim investigators until you have consulted with a lawyer. Your lawyer will handle communications with insurance companies on your behalf.
6. Notify Your Employer or School if Off of Work
If you need time off work due to the accident, inform your employer or school promptly. Keeping them updated about your situation is essential for both legal and employment purposes.
7. Claim EI Sick Benefits if Off Work for Over Two Weeks
If your injuries prevent you from working for more than two weeks, contact Employment Insurance (EI) to apply for sick benefits. Call Service Canada Toll-Free: 1-800-206-7218.
8. Document Injuries with Photographs
Take pictures of your injuries to create a visual record of their severity and progression.

9. Document Vehicle Damage and Other Involved Vehicles
Capture images of the damage to your vehicle and any other involved vehicles. These photographs can be valuable evidence for your claim.
10. Record Health Care Professionals' Information
Keep a record of the names and contact information of the healthcare professionals involved in your treatment.
11. Record Family Care-giving Time
Family members caring for the injured person should record the dates and times spent providing care. This information can be important for potential claims.
12. Check for Additional Insurance Coverage
Investigate whether you have additional insurance coverage, such as long-term and short-term disability insurance through your work, school, or private plans.
14. Track Expenses and Keep Receipts
Maintain a detailed record of all expenses related to the accident, including medical bills, transportation costs, and any other relevant expenses. Keep copies of all receipts.
15. Follow Doctor's Recommendations and Seek Rehabilitation
Comply with your doctors' advice and follow their treatment plans. Seeking rehabilitation as soon as possible can aid in your recovery and potential legal claims.
Download the PDF Here!
Want to save a copy of this page so you can read it at a later time? Click the button to save to your desktop or phone.
Download Now!
✓ You Pay Nothing Until We Win       ✓ Free Case Evaluation        ✓ 25 Percent Contingency Fees
CLG Injury Law understands that your accident has had negative impacts on your life. Contact us today to get us fighting for you in your corner. Let's get you back on the road of life.
We are here to help clients and people. If you are experiencing difficulties in your life due to an accident, please reach out and let us help fix this disruption to your lifestyle. We are here for you!
An informed client is a happy client. Check out the latest CLG Injury Law News, Health & Safety Tips, Recalls, Law Briefs, and much more: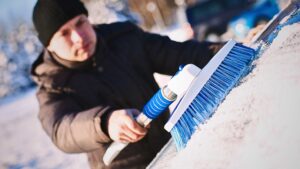 In this blog post, we delve into the importance of diligently removing snow and ice from your vehicle before hitting...
Read More
Browse other sections to find out more information about your situation: