How the lawyer evaluates your case?
Ongoing Process – Case evaluation is an ongoing process for a personal injury lawyer. Your lawyer will weigh the factors listed below in deciding whether to accept your case initially, in evaluating settlement offers, in preparing for trial, and during the trial itself.
Factors Considered
Liability
Liability – that is, a breach of the duty to use reasonable care – is the first and biggest hurdle a personal injury lawyer will consider. This is especially true in smaller personal injury cases. Insurance companies have no fear whatsoever about rejecting claims in small cases in which there are serious questions as to liability. To put it another way, if the defendant's liability (i.e., fault or responsibility) is unclear, then so is your chance of achieving a favorable outcome in your case.
Damages
What is the potential value of your case? Liability can be clear, but if there are no damages, then you have no case. For example, imagine you are forced off the road by another driver who crosses the center line. The driver is charged with operating under the influence and is arrested on the scene. You are shaken, but have no physical injuries. Clear case? No. The liability is absolute, but you have virtually no damages.
The damages factor generally cannot be adequately assessed at your initial interview with the lawyer because the full extent of your injuries is still unknown. However, even in the earliest stages of your case, you probably have some idea as to the potential severity of your injuries.
Defendant with assets or ability to pay
Does the potential defendant have the ability to pay a judgment? If not, you and your lawyer may invest a good deal of time, money end emotional energy in the case, but never see a penny in return. You may have a viable case if:
The defendant has personal assets (e.g., property) to satisfy a judgment; or
Insurance is available to satisfy a judgment. Depending on the facts of your case, this might include the defendant's auto or home insurance; the defendant's employer's insurance; the car owner's insurance; or the property owner's insurance.
If the defendant is uninsured, your uninsured or under-insured motorist policy will pay any judgment.
Jury appeal
What kind of person are you? Will the judge or jury like you? Will judge or jurors empathize with your situation? What kind of person is the defendant? Will the jury like the defendant? There are some "bad defendants" – the drunk driver, the tire squealer, the bully or the bar owners who were too busy pushing drinks to notice who was getting drunk. If you have a bad defendant, your settlement range goes up. There are also some "good" defendants – e.g., the little old man who rear-ends you because he is distracted, looking for his doctor's office. A "good" defendant will lower the settlement value of your case because a jury will sympathize with him or her.
Quality of potential witnesses
Your case is only as good as your evidence, and usually your evidence is only as good as your witnesses. If, for example, your only witness to support liability is a relative or friend, your case is weaker than if you had several impartial witnesses. If the doctor involved has never testified, doesn't want to testify or cannot testify well, this also weakens your case and lowers its settlement value.
Insurance company
Some insurance companies are far more conservative (i.e., tight- fisted) than others. Their settlement practices will not change, even if they lose 100 lawsuits. It doesn't bother this type of insurance company to pay several thousand dollars to defend a $25,000 case, even if they lose to a verdict of $35,000. It's part of doing business. If the carrier is fair, and some of them are, you can count on a few more dollars in the settlement offer.
Legal issues
Is there case law or court ruling that applies to your case? If there is strong supporting law that your injury lawyer can cite in your favor, the settlement value of your case is enhanced.
In an auto accident case, collision damage
In many automobile cases, the actual damage to the automobile may be minimal. Car bumpers are made to absorb more impact now than they could years ago. Courts are impressed by evidence, or lack thereof, of substantial collision damage. If the car in which you were injured looks like an accordion, it will be easier to convince a court that you sustained fairly serious injuries.
✓ You Pay Nothing Until We Win       ✓ Free Case Evaluation        ✓ 25 Percent Contingency Fees
CLG Injury Law understands that your accident has had negative impacts on your life. Contact us today to get us fighting for you in your corner. Let's get you back on the road of life.
We are here to help clients and people. If you are experiencing difficulties in your life due to an accident, please reach out and let us help fix this disruption to your lifestyle. We are here for you!
An informed client is a happy client. Check out the latest CLG Injury Law News, Health & Safety Tips, Recalls, Law Briefs, and much more: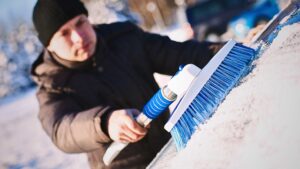 In this blog post, we delve into the importance of diligently removing snow and ice from your vehicle before hitting...
Read More
Browse other sections to find out more information about your situation: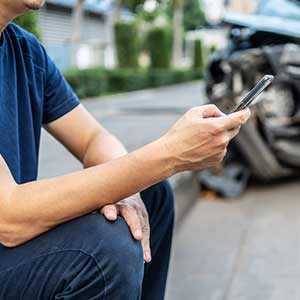 We answer your questions about what to do after an accident, doctors & more.
Learn all about what your case is worth and if you should proceed with your case.
Find out what you need to know before contacting a lawyer after an accident.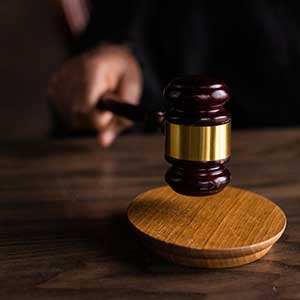 We tackle your questions about the settlement and litigation process.