Mediation for Canadian Personal Injury Cases: A Collaborative Path to Resolution
When it comes to personal injury cases in Canada, there's a way to resolve disputes that doesn't involve a full-blown court battle. It's called mediation, and it's a process that Canadian injury lawyers often use to help their clients find common ground and settle their disagreements without going through the traditional legal system.
What is Mediation All About?
Imagine you've been injured, and there's a disagreement about who's responsible and how things should be sorted out. Instead of immediately heading to court, mediation steps in. It's like having a peacemaker in the room. This peacemaker is called a mediator, and their job is to help everyone involved have a conversation and facilitate an agreement that works for everyone.
How Does Mediation Work?
1. Choosing to Participate: First off, everyone has to agree to attend mediation. No one is forced into it. It's a chance for all sides to come together voluntarily to try to resolve their differences.
2. The Neutral Guide: The mediator is like a guide on this journey. They're not on anyone's side – their goal is to help everyone talk things out and find common ground.
3. Talking Together and Apart: There are times when everyone talks together in the same room. Then there are times when the mediator chats with each side separately. It's all about finding out what's important to each person.
4. Sharing and Solving: People get to share their thoughts, concerns, and ideas. Through talking and working together, the goal is to find solutions that everyone is mutually happy with.
5. Reaching an Agreement: If everything goes well and everyone agrees on something, that agreement becomes a proper deal. It's not just a handshake – it's legally binding.
Why Mediation Can Be Beneficial:
1. Money Matters: Mediation usually costs less than going to court. So, you save money.
2. Time's on Your Side: Mediation tends to be quicker than the long process of going to court.
3. You're in the Driver's Seat: Instead of having a judge decide, mediation lets you have a say in what happens.
4. Keeping the Peace: If you've got to keep interacting with the other side (like insurance companies), mediation can help keep things more peaceful.
5. Privacy, Please: What's said in mediation stays in mediation. It's confidential, which makes it easier to talk openly.
For Canadian injury lawyers, mediation is a smart way to help their clients get a fair deal without all the stress of the courtroom.
✓ You Pay Nothing Until We Win       ✓ Free Case Evaluation        ✓ 25 Percent Contingency Fees
CLG Injury Law understands that your accident has had negative impacts on your life. Contact us today to get us fighting for you in your corner. Let's get you back on the road of life.
We are here to help clients and people. If you are experiencing difficulties in your life due to an accident, please reach out and let us help fix this disruption to your lifestyle. We are here for you!
An informed client is a happy client. Check out the latest CLG Injury Law News, Health & Safety Tips, Recalls, Law Briefs, and much more: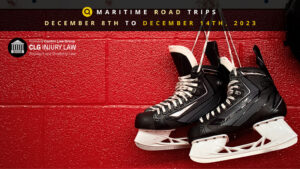 Get ready to hit the road and explore the best of the Maritimes during the week of December 8th to...
Read More
Browse other sections to find out more information about your situation: