July 2023 Traffic Roundup for the Maritimes
Moncton Region Traffic Reports
Moncton Traffic Incident Statistics
Moncton Area Traffic Conditions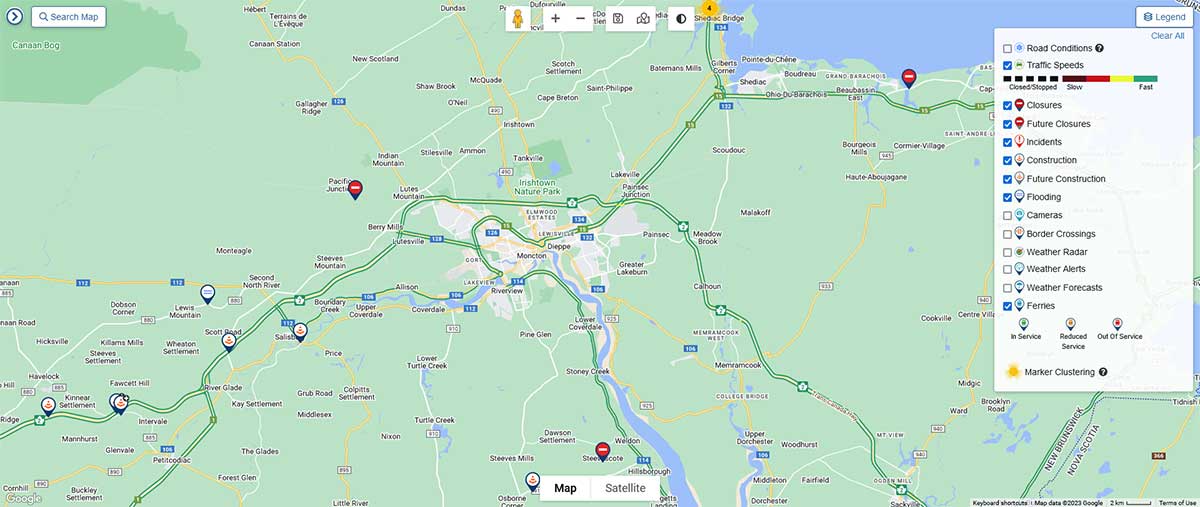 Saint John Area Traffic Reports
Roll Call Car Show – July 15, 2023 – Special Traffic Campaign
The Saint John Police will conducted a city-wide special traffic campaign during the Roll Call Car Show being held at TD Station on July 15, 2023. The one-day event drew thousands of spectators and hundreds of participants from across the Maritimes.
Through education and zero-tolerance enforcement, officers from the Saint John Police, Kennebecasis Regional Police Force, and New Brunswick Justice and Public Safety targeted offences under the Criminal Code of Canada and provincial legislation using the following approaches:
Traffic entering and exiting the venue will be controlled;
City-wide zero-tolerance patrols;
Checkpoints with a focus on impaired driving
The Saint John Police were pleased to report that this year's event did not result in any serious injuries. As a result of the campaign, a total of 7,303 vehicles came through various checkpoints:
150 vehicles were visually inspected
49 vehicles will need to be certified by an engineer to be re-registered
23 vehicles were towed
81 motor vehicle violations and 45 warnings were issued
The Saint John Police would like to thank the event organizers and the public for their patience. We would also like to thank the Department of Justice and Public Safety and Kennebecasis Regional Police Force for ensuring that this year's event was safe for everyone.
Quick News Links
33-year-old woman dies in New Brunswick ATV crash
https://atlantic.ctvnews.ca/33-year-old-woman-dies-in-new-brunswick-atv-crash-1.6473396
Woman dead after ATV crash in Pennfield Parish area
https://www.cbc.ca/news/canada/new-brunswick/woman-dead-atv-crash-1.6901853
Increased police presence at Saint John car show
Saint john Area Traffic Conditions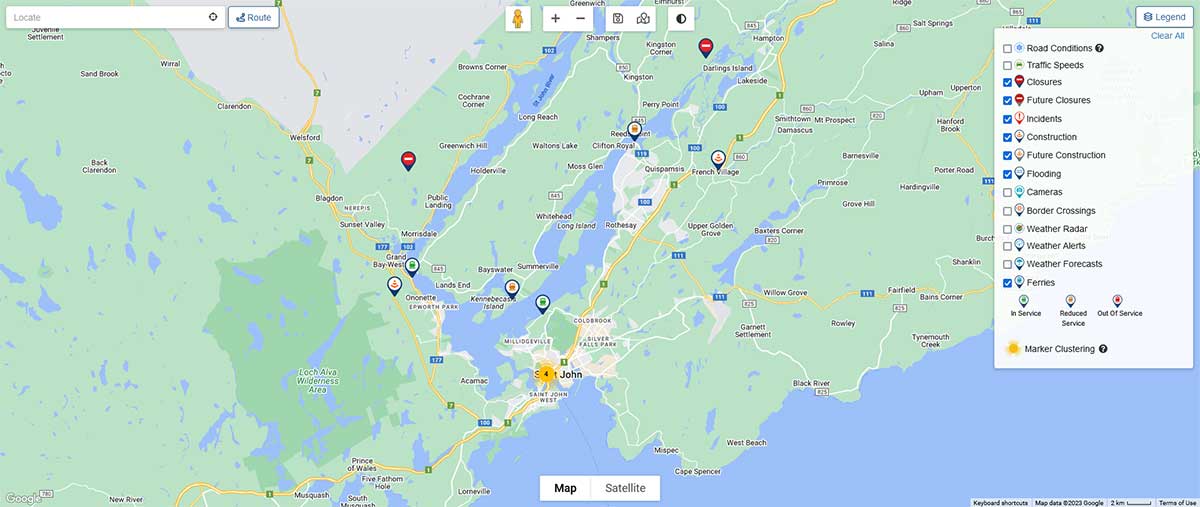 Fredericton Traffic Reports
2023 Q2 – 69 impaired drivers
Fredericton Police charged 69 with impaired driving in the second quarter of 2023. Fredericton Police continue to work with community partners to raise awareness and educate the public on the dangers of driving impaired. Impaired driving is a leading criminal cause of death in Canada and is still one of the top five causes of motor vehicle collisions.
From Social Media in Fredericton
Fredericton Area Traffic Conditions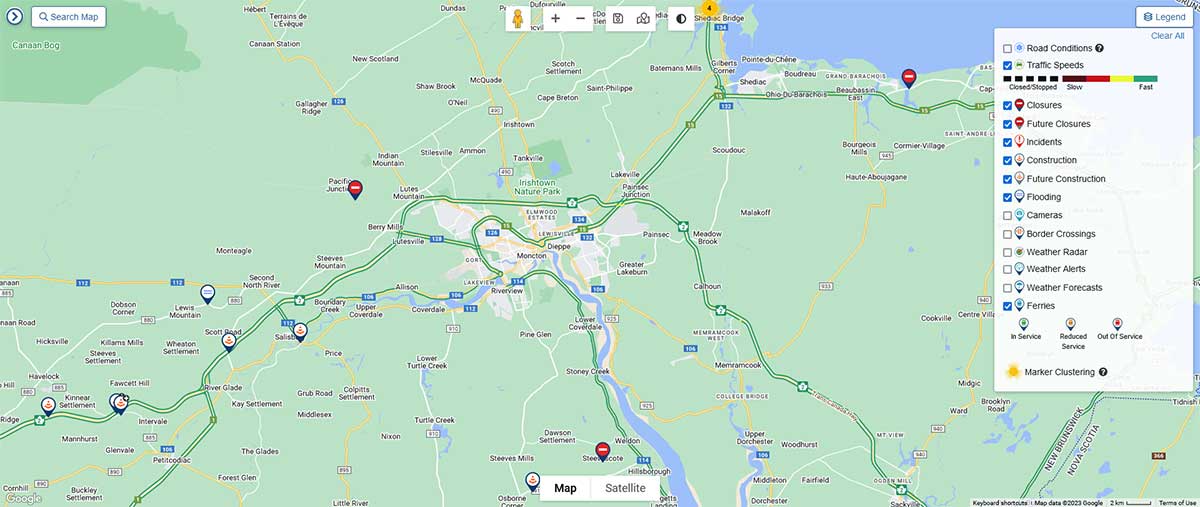 Halifax Region Traffic Reports
Halifax Traffic Incident Statistics
Halifax Regional Police release impaired driving statistics for June
Halifax Regional Police charged 39 drivers with impaired related offences during the month of June.
Of the 39 drivers, 24 were charged with impaired operation of a conveyance by alcohol, four were charged with impaired operation of a conveyance by a drug and 11 drivers were issued a driving suspension for operating a conveyance while having consumed alcohol. Of the drivers who provided breath samples, officers were able to detect a wide range of blood alcohol concentrations (80 to 210 mg %) with four drivers being at least twice the legal limit. Four of the drivers refused to provide a breath sample and were charged with the offence of refusal.
In June, 13 calls were received from people who suspected impaired drivers. We thank the public for reporting suspect impaired drivers and encourage anyone to call 911 immediately if they suspect someone is driving impaired. See More>>>
Social Media from Halifax
Halifax Region Traffic Conditions
Truro Area Traffic Reports
Truro Traffic Incident Statistics
On June 26th, the Truro Police Service and Nova Scotia Vehicle Compliance Officers partnered to conduct 3 road safety check stops around Truro. The goal of this initiative is to increase public safety by removing unsafe vehicles from the road, unlicensed drivers and to bring attention to unsafe driving. Contrary to some public opinion, police in Nova Scotia do not have a quota system, nor are these types of operations conducted to generate government revenue. In total 33 summary offence tickets were issued, and 12 unsafe vehicles were identified by Vehicle Compliance Officers. Below is a break down of the violations that were addressed.
12 vehicles that were checked by Vehicle Compliance for safety concerns resulting in :
9 were issued rejection stickers;
1 was issued an order to reinspect;
2 were prohibited from operation and were towed.
In addition to the above, TPS wrote the following Summary Offence Tickets
2 – Driving motor vehicle while license suspended;
12 – Speeding;
2 – Studded tires;
1 – Not wearing available seatbelt;
7 – Expired inspection;
3 – Violating regulations;
4 – Expired registration;
2 – Unregistered vehicle.
Road safety is everyone's responsibility, together we can make our roads safer for all users.
Quick News Links
Woman dies after collision between car, Hummer in Hilden, N.S.
Truro Area Traffic Conditions
Prince Edward Island Traffic Reports
Prince Edward Island Traffic Incident Statistics
Prince Edward Island Traffic Conditions
RCMP Traffic Reports From Around The Maritimes