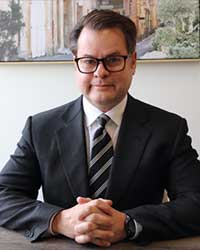 In 1992, Jason started his career as an independent claims adjuster with Adjusters Canada Inc. in Toronto handling insurance claims on behalf of various Canadian insurance companies and nationwide landlords and hoteliers including Cadillac Fairview and Holiday Inns Canada.  It was during those formative years he gained considerable insight into the handling of claims arising from car accidents, slip and falls and even defective consumer products.
Jason graduated from the University of New Brunswick law school in 2001, and thereafter worked in private practice before entering the New Brunswick civil service where he advised on insurance, labour, procurement and pension matters.
Jason has recently joined the CLG Injury Law and represents clients to ensure they are treated fairly and receive full compensation for their losses.He is based out of the Fredericton office, but serves the surrounding areas including Saint John, Sussex, Woodstock and Miramichi.
Phone Number: 506-800-1142
Email: jdebly@clginjurylaw.ca
Linkedin: https://www.linkedin.com/in/jason-debly-996325122/